Portland Oregon Fishing Guides
Fish with some of the top ranked Portland Oregon fishing guides and charter boat services in Portland Oregon and Vancouver Washington. Providing quality drift boat trips and guided fishing trips on Oregon and Washington rivers and Pacific Ocean gallery. Depoe Bay fishing and whale watching tours also. Fishing Trip Gift Certificates $25.00 [ Client Feedback ]
Ov
Over 185 top rated Professional Portland fishing guides, hunting guides, outfitters and deep sea ocean charters throughout Oregon and Washington, Sportfishing capitals of the world. Fishing trips for young and old fishing hunting, beginner and experienced. We know where their "catching" fish in Oregon and Washington whether on the Columbia River, Willamette River in Portland or the Pacific ocean we'll get you in the action!
We utilize all current and past season catch information for the Columbia River, Willamette River and others throughout Oregon and Washington to insure that you will be fishing at the best possible time and location for various species like salmon, steelhead, sturgeon and more. We want you to catch fish so you will use our service again and recommend it to others.
[ Data we use to insure your fishing success ]
Guides Fishing Portland Oregon
All Portland Guides are fully licensed by the U.S. Coast Guard, fully insured and have appropriate state outfitters licenses. All are trained in CPR and first aid and are enrolled in drug and alcohol testing programs, as required by the US Coast Guard. All Guides are ranked according to client satisfaction client, years of experience and quality of service and equipment.
Let us direct you to a wonderful and rewarding experience fishing beside some of the friendliest, most knowledgeable and successful sport fishing guides in the industry. Why take chances or waste time searching for the right fishing guide when you can always go with the best, every time.
[ Guide request form ] [ Client feedback ] [ Rental cars lodging ]
---


Fishing Guides
GENERAL INFORMATION
Fishing License and tags should be obtained before your trip. Oregon $17.75 Buy online. Washington $8.00 online. Some guides one-day licenses onboard. We can also direct you to where you can pick one up on day of trip. Tags are included with all daily Oregon licenses. In Washington punch cards are required (Free).


"Book Your Trip"
Visit our main site
The link above will take you to our PayPal page at Business Innovations
here you can make your deposit using a Credit Card or PayPal account.
---
Portland Oregon Fishing Guides Services
Top of the line tackle, bait, equipment provided by Portland Oregon Fishing Guides.
There is Hot coffee on ocean charter boats.
Our charter boats have restroom (head). Porta-potties on Guide boats.
Most Fishing Guides and Portland charters clean, prepare your fish for transport at no additional cost (some species not included).
Map directions, distance, driving time provided to meeting location with Portland Oregon Fishing Guides
One-day fishing licenses onboard some vessels, or we can direct you to locations you can pick one up on morning of trip.
Information on near by points of interest and accommodations, hotels, RV parks, campgrounds, RV and cabin rentals available.
Fish preparation, including packaging for travel, filleting, smoking, canning, Freezing, shipping is available (costs extra).
---
Contact Portland Oregon Fishing Guides
Telephone

Please visit our main site

Electronic mail
---
Portland Fishing Guides
Oregon's Columbia River Gorge is world renowned for guided fishing for white sturgeon averaging 30 to 80 pounds each. Some oversize fish weighing up to 400 pounds plus. Chinook salmon fishing very popular on Columbia River also.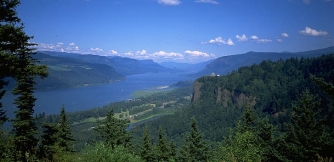 ---
Oregon Chinook Salmon Fishing
The Columbia River Gorge well known for Portland Guides to target large Chinook salmon.
Chinook are also referred to king salmon or spring salmon. Starting in March, the Spring Chinook are the most desired for their excellent taste. Chinook salmon average 15-20 pounds. Upriver Brights make their way upriver in August. Mid to late September, Fall Chinook are present. Coho Salmon enter in September. Salmon fishing Oregon and Washington Portland Oregon fishing guides.
Oregon Fishing Opportunities are Year-round
Please Visit our main site
---