Portland Oregon Fishing Deep Sea Charters Ocean Fishing and Fully Guided River Trips














Brochure


Fish with Portland Oregon fishing guides and charters year-round for walleye, sturgeon.
BestFishingBooks.com

Data we use to determine best fishing opportunities for Portland charter fishing trips for salmon, sturgeon, bottomfish, halibut and tuna off the coasts of Oregon and Washington.
Ocean currents change frequently and can play a major roll in where the bulk of various species will be found. Some species prefer cooler waters while others will be found in areas where the currents are more temped (Light areas are warmer currents). This has a great influence on Oregon and Washington fishing opportunities. Sea temperatures off the west coast vary from month to month, depending on wind direction and upwelling, and play a large role in angler success rates. We pay close attention to these changes and direct our clients accordingly.

(Light areas are warmer currents)
Sea surface temperatures, wind direction, wave heights, currents and other factors are all taken into account. This information along with past and current seasons catch data is used by A & B Pro Guides referral agents to insure our clients will always be fishing at the best locations, while enjoying a fun and rewarding trip with an experienced, professional, fully licensed guide.
Catch data from previous seasons also help us to insure you will be fishing at a time when the chance of success is high (sample of monthly sport catch data below).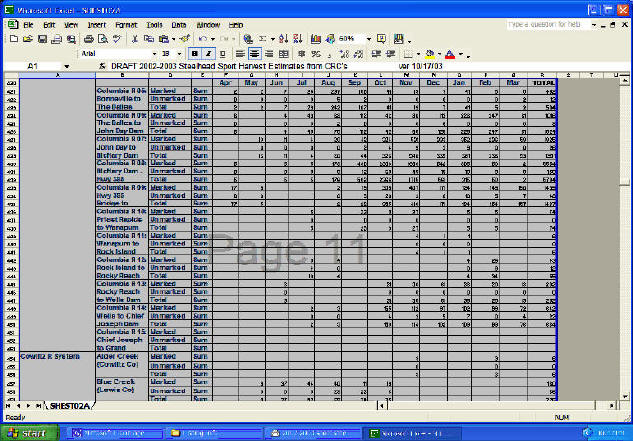 All this information and more, is combined to provide our clients with the absolute best fishing trip possible. Each year A & B Pro Guides helps hundreds of people find a fun and satisfying trip with a quality guide. Client feedback.
Let us help direct you to some of the finest fishing available in
Oregon and Washington, fishing capitols of the world.